Environmental Hydrology of Lakes and Wetlands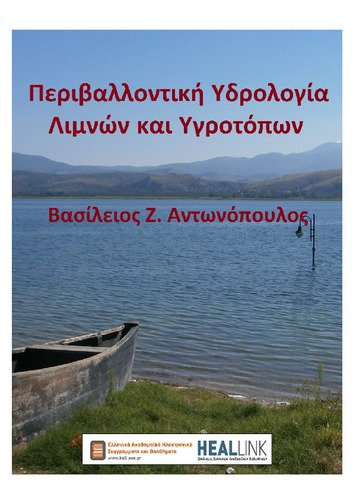 Title Details:
Environmental Hydrology of Lakes and Wetlands

Authors:
Antonopoulos, Vassilis

Subject:
ΦΥΣΙΚΕΣ ΚΑΙ ΓΕΩΠΟΝΙΚΕΣ ΕΠΙΣΤΗΜΕΣ > ΓΕΩΠΟΝΙΚΕΣ ΕΠΙΣΤΗΜΕΣ > ΦΥΣΙΚΟΙ ΠΟΡΟΙ, ΕΠΙΣΤΗΜΕΣ ΓΗΣ ΚΑΙ ΠΕΡΙΒΑΛΛΟΝΤΟΣ > ΦΥΣΙΚΟΙ ΠΟΡΟΙ > ΥΔΑΤΙΝΟΙ ΠΟΡΟΙ ΦΥΣΙΚΕΣ ΚΑΙ ΓΕΩΠΟΝΙΚΕΣ ΕΠΙΣΤΗΜΕΣ > ΓΕΩΠΟΝΙΚΕΣ ΕΠΙΣΤΗΜΕΣ > ΕΡΕΥΝΑ, ΤΕΧΝΟΛΟΓΙΑ ΚΑΙ ΜΗΧΑΝΙΚΗ (ΓΕΩΠΟΝΙΚΕΣ ΕΠΙΣΤΗΜΕΣ) > ΠΕΡΙΒΑΛΛΟΝΤΙΚΗ ΜΗΧΑΝΙΚΗ ΕΠΙΣΤΗΜΕΣ ΜΗΧΑΝΙΚΩΝ ΚΑΙ ΤΕΧΝΟΛΟΓΙΑ > ΤΕΧΝΟΛΟΓΙΑ ΚΑΙ ΕΠΙΣΤΗΜΕΣ ΜΗΧΑΝΙΚΩΝ > ΤΕΧΝΟΛΟΓΙΑ ΚΑΙ ΜΗΧΑΝΙΚΗ ΠΕΡΙΒΑΛΛΟΝΤΟΣ > ΠΕΡΙΒΑΛΛΟΝΤΙΚΑ ΣΥΣΤΗΜΑΤΑ ΚΑΙ ΜΟΝΤΕΛΑ ΕΠΙΣΤΗΜΕΣ ΜΗΧΑΝΙΚΩΝ ΚΑΙ ΤΕΧΝΟΛΟΓΙΑ > ΤΕΧΝΟΛΟΓΙΑ ΚΑΙ ΕΠΙΣΤΗΜΕΣ ΜΗΧΑΝΙΚΩΝ > ΤΕΧΝΟΛΟΓΙΑ ΚΑΙ ΜΗΧΑΝΙΚΗ ΠΕΡΙΒΑΛΛΟΝΤΟΣ > ΔΙΑΧΕΙΡΙΣΗ ΥΔΑΤΙΚΩΝ ΠΟΡΩΝ ΦΥΣΙΚΕΣ ΚΑΙ ΓΕΩΠΟΝΙΚΕΣ ΕΠΙΣΤΗΜΕΣ > ΕΠΙΣΤΗΜΕΣ ΤΗΣ ΓΗΣ > ΥΔΡΟ(ΓΕΩ)ΛΟΓΙΑ > ΠΡΟΣΤΑΣΙΑ ΥΔΑΤΙΚΩΝ ΠΟΡΩΝ ΙΑΤΡΙΚΗ ΚΑΙ ΕΠΙΣΤΗΜΕΣ ΥΓΕΙΑΣ, ΕΠΙΣΤΗΜΕΣ ΖΩΗΣ, ΒΙΟΛΟΓΙΚΕΣ ΕΠΙΣΤΗΜΕΣ > ΕΠΙΣΤΗΜΕΣ ΤΗΣ ΖΩΗΣ > ΛΕΙΤΟΥΡΓΙΚΗ ΚΑΙ ΟΡΓΑΝΙΣΜΙΚΗ ΒΙΟΛΟΓΙΑ > ΟΙΚΟΛΟΓΙΑ > ΔΙΑΧΕΙΡΙΣΗ ΠΡΟΣΤΑΤΕΥΟΜΕΝΩΝ ΠΕΡΙΟΧΩΝ
Keywords:

WATER RESOURCES
ENVIRONMENTAL ENGINEERING
ENVIRONMENTAL SYSTEMS AND MODELS
WATER RESOURCES MANAGEMENT
WATER RESOURCES PROTECTION
MANAGEMENT OF PROTECTED AREAS


Description:
Abstract:

The book of "Environmental hydrology of lakes and wetlands" presents the fundamental characteristic and properties of wetland and lakes and the importance and the role of them in the aquatic systems and the cycle of life. The hydrological components of water balance at wetlands and lakes (rainfall, runoff, evapotranspiration, groundwater and interaction of groundwater and wetlands) are described. The water quality characteristics and the changes of them in space and in time are also described using mathematical formulas. Equations and relationships which connect the water quality and the hydrological processes are also described. In two chapters the characteristics and the principles of artificial wetland design are presented. At the last chapter mathematical models that describe the water quality and the eutrophication in lakes and wetlands are described and the basic equations that used in one of these models are also presented. At the appendix a dictionary and glossary of terms that used in wetland and lake hydrology is tried to present.


Type:
Undergraduate textbook

Creation Date:
2019
Item Details:
ISBN
978-960-603-523-4
978-960-603-523-4

License:
http://creativecommons.org/licenses/by-nc-sa/3.0/gr

Handle
http://hdl.handle.net/11419/6520
Bibliographic Reference:
Antonopoulos, V. (2019). Environmental Hydrology of Lakes and Wetlands [Undergraduate textbook]. Kallipos, Open Academic Editions. https://hdl.handle.net/11419/6520
Language:
Greek
Greek

Publication Origin:
Other publications


Usage statistics

:
Items in DSpace are protected by copyright, with all rights reserved, unless otherwise indicated.